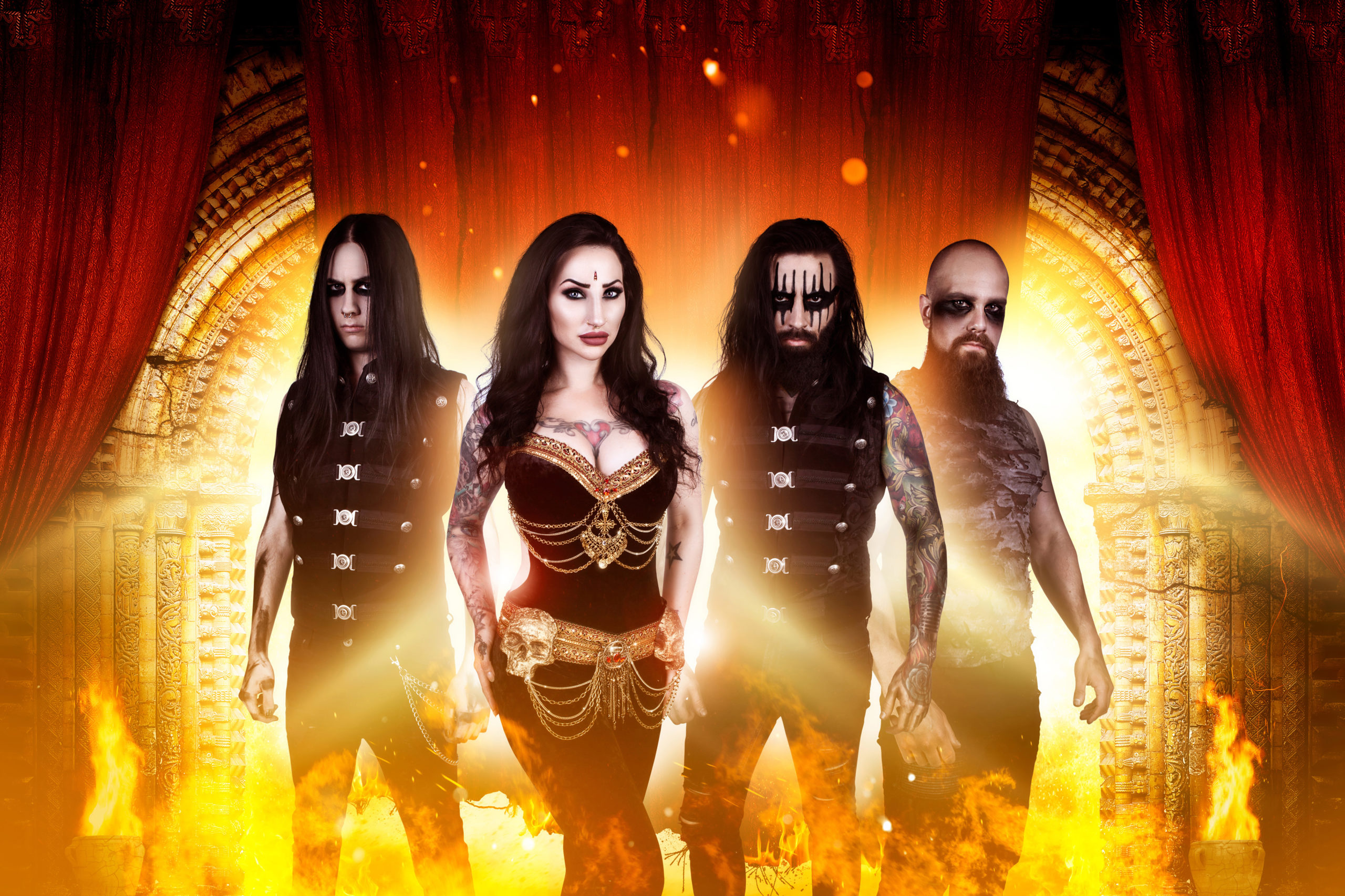 Eleine
Symphonic Metal
ELEINE was founded by lead vocalist Madeleine Liljestam & guitarist/growler Rikard Ekberg. The first show was held in 2014 and the following year ELEINE released their self-titled debut album. ELEINE's music is heavy dark symphonic metal with a unique and interesting spin.
When performing on stage, they never fail to deliver a show that captivates the audience by seducing and striking them with a massive sense of wonder. When people hear ELEINE, they might also identify the name with an alternative model. Beyond being the founder and lead singer of the band, Madeleine is an alternative model and has been on the cover of magazines such as Scandinavian Tattoo Magazine and Dominate Me Magazin, and she models for several large alternative companies.
In early 2016, ELEINE took a new turn when the band and their label went separate ways. In June of the same year they released their hit single "Break Take Live" along with a music video that was well received by critics and fans.
During the fall of 2016, ELEINE went on their first European tour, as an opening act for the Portuguese metal giant MOONSPELL. This was a huge success and came to be a big stepping stone for ELEINE.
In 2017 Madeleine and Rikard started their own record label, Algoth Records, and joined forces with the well known label Black Lodge Records and Sound Pollution Distribution. During the same year they played several renowned shows, one of which was Gefle Metal Festival. In October of 2017 ELEINE released their single, "Hell Moon (We Shall Never Die)" before they went on tour in Sweden with the legendary W.A.S.P.
Shortly after this tour, ELEINE was invited to headline the Loud & Metal Mania festival 2017 in Tokyo, Japan. A huge feat that still resonates amongst their fans.
A new chapter began for ELEINE when they released their second full-length album
"Until The End" in February of 2018. During its first week of release, the album placed #1 in the Swedish album sales charts.
"Until The End" also saw an Asian release through the label Marquee Inc./Avalon that includes an exclusive bonus track.
During 2018 ELEINE toured with ARCH ENEMY on their swedish leg of "Will To Power"-tour and went on to do headline tours of their own in both Sweden and UK . During fall/winter of 2018 Jesper Sunnhagen and Anton Helgesson joined ELEINE as new and permanent drummer and bass player for ELEINE.
2019 was a succesful year for ELEINE. It was a year where the tours circled around festivals while they worked on their upcoming release, the five track EP "All Shall Burn", from which they released a total of three singles before the release. "Enemies" was the first single out and it instantly became a hit for ELEINE, reaching over 2,5 million Youtube views in just 6 months.
The second single was a cover of the well-known "Mein Herz Brennt", by Rammstein, that was quicly added to Spotify's list "Metal Covers".
The third and last single from the EP was the title track "All Shall Burn", which has become one of ELEINE's most popular songs of all time. The EP placed high up on several Swedish sales charts during its first week of release, verifying that the EP was a success.
After the release of the EP "All Shall Burn", ELEINE headed out on a 5 week European Tour alongside with MYRATH in February/March 2020.  Sadly, due to the COVID-19 virus spreading around the world, the last two weeks of the tour had to be cancelled.
At the time of writing, ELEINE has finished their third full-length album "Dancing In Hell", set to be released in November 27th, 2020.