Wormwood releases three new bonus tracks on the Deluxe Edition of Arkivet including covers of Nick Cave's The Weeping Song and Loreena McKennitt's Caravanserai. Available for streaming now.
The band comments on the bonus tracks:
The reason why we picked Shipwrecked and Northbound was because most of our listeners haven't heard our first EP 'The Void: Stories From the Whispering Well'. It was a time of experimentation and getting to know each other's style.
We picked this song specifically because it had fragments of that sound that we wanted to pursue. That sound led to the creation of Ghostlands.
Now – years later we decided to re-make it with the knowledge, possibilities and skills we lacked back then. It's a homage to the old and new.
The two covers on this deluxe edition were picked because they meant something deeply for some members in the band.
Most people know Nick Cave and his mastery of words and music, but fewer know about the enchanting Loreena McKennitt.
With our style and vision we created these two covers in respect to their virtuosity but with our own twist!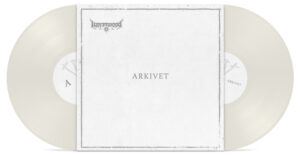 Wormwood – Arkivet (Deluxe Edition) is available on digital, CD & vinyl.
Listen / Buy here: https://orcd.co/arkivet-deluxe-edition