Sterbhaus returns with the live album "Necrostabbing at Göta Källare – Live in Stockholm"! The album is set for release via Black Lodge Records on the ninth of July 2021.
The urban myth of French soldiers throwing their wooden shoes (named "sabot") into the machinery at the time of the industrial revolution – hence giving rise to the word "Sabotage" may be fiction, but it's an interesting allegory to when fate, reality and the industry threw their wooden shoes in the machinery of one Stockholm based act in the most untimely of moments. What is so surprising is how amazingly well-oiled and blisteringly convincing the machinery of Sterbhaus remains with all those wooden shoes rattling around in there. The new live album "Necrostabbing at Gota Kallare – Live in Stockholm", which is so timely released now in the midst of the Covid pandemic shows Sterbhaus at their very best… and that has always been live. It's a hungry and energetic live show from a band eager to exact revenge from having been stranded locally when all booked tours after the new album release was cancelled. The whole affair was actually also filmed and will be available on social media together with this live album.
Sterbhaus is the home of Marcus Hammarström (also in Shining), Erik Röjås (also in Ondskapt), Jimmy Ahovalli and at this time also Simon Olovsson (now in Avslut).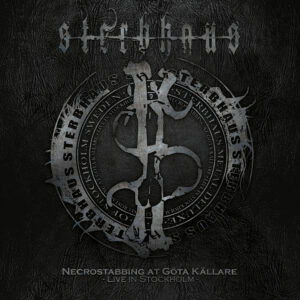 Tracklist
01. Necrostabbing the Corpsefinder
02. Absolutely Do Not Die!
03. New Level of Malevolence
04. Grudgeholder + Hatemonger
05. El Giftus Satanus
06. The King of the Red
07. Baby Jee and the 3 Stalkers
08. Bloodbarf
09. Ministry
Pre-Order "Necrostabbing at Göta Källare – Live in Stockholm": https://orcd.co/necrostabbing-at-gota-kallare